THE HISTORY OF
PITMASTON HOUSE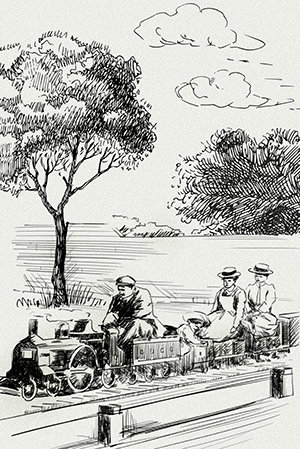 The site of the refined neoclassical estate on Moor Green Lane was originally home to the family of Sir John Charles Holder, a Justice of the Peace and High Sheriff of Worcestershire.
In the early 1870s, he commissioned Pitmaston Estate to replace Moor Green Cottage. The grounds were encircled by a nationally famed miniature railway system. Despite this emblem of the industrial era, the property was seen as a refuge from the relentless procession of Birmingham's urban centre.
The site was acquired by the Ideal Benefit Society in 1930, who enlisted one of Birmingham's finest architects of the period, Holland W. Hobbis, to create the brick and stone structure that stands today.
In recognition of its heritage and architectural significance, the building was listed in 2003 as a place of special historical interest, while Pitmaston Pond is designated a Site of Local Importance for Nature Conservation.
After acquiring the estate, the Church of Scientology conducted meticulous restoration and preservation of its many striking architectural details. Among these are ornate geometric stone floors; fluted and arched marble doorways; heavy oak panelling, and windows and balustrades adorned with elaborate wrought iron grillwork.
When the building was dedicated as the home of the Church of Scientology in October 2017, it signified the proud return of a Birmingham treasure for the betterment of generations to come.